I love handmade gifts, taking time to create something personalised shows how much you care for someone. Aromatherapy is a wonderful way to create bespoke gifts, either with an essential oil blend you know your loved one will adore, or by theming the gift to have a benefit, maybe creating a moment of calm or a pick-me-up blend.
Of course, you can use your imagination but books are a great way to gain inspiration, and if you're new to aromatherapy you can be assured that your gift has been made safely for your loved one. We have plenty of books to inspire creativity, Neal's Yard Remedies Beauty Book and Neal's Yard Remedies Essential Oils have plenty of recipes that you can simply follow or tweak to personalise.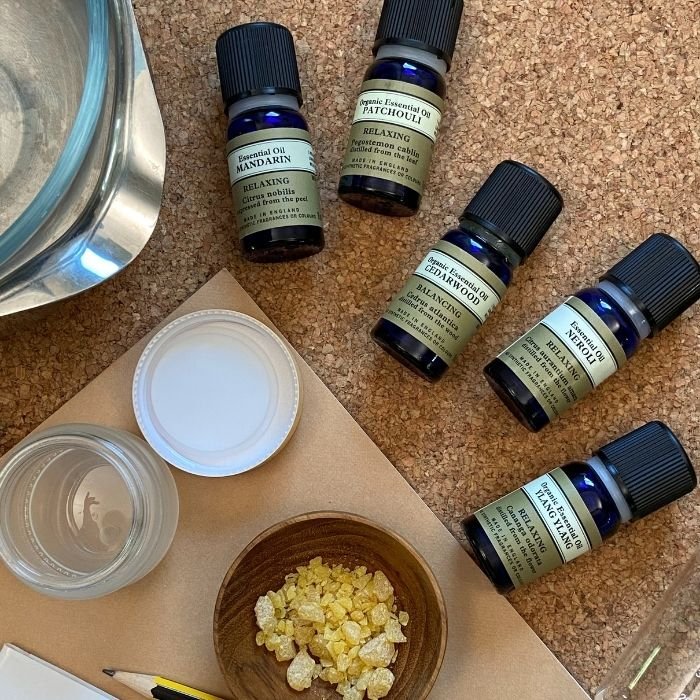 Delving into the world of aromatherapy is exciting, but can be daunting too. A couple of questions I've been asked countless times include: How do you know which essential oils blend well together, and how do you blend essential oils safely? So, let's take a look.
Blending essential oils can be complex, so here are our top tips…
Aromas are split into top, middle and base notes. Top notes are the aroma you smell first, they're often light and include most citrus essential oils. Middle notes or heart notes form the body of a blend, they're often herbaceous and floral, whilst base notes are deep, and linger after the top notes have disappeared, they're often woody, musky and resinous.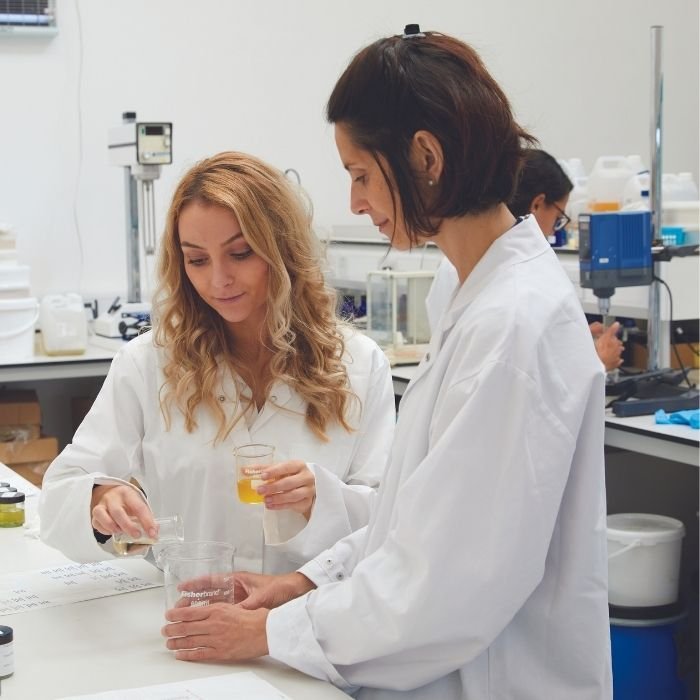 When I'm blending I use essential oils from top, middle and base notes and find this gives me a balanced blend. Also, when you start blending keep it simple, using 3-5 essential oils makes it easier to keep on top of your creation. Keep a tally of how many drops you've used so you can tweak or recreate and this means you can keep within safe blending ratios.
How do I blend essential oils safely?
We always blend essential oils into a base, never directly onto the skin, and use a safe ratio of essential oils to the base product.
Our online essential oil safety leaflet contains key dilution details, and more in-depth information can be found in the Neal's Yard Remedies Essential Oils Book and Little Book of Essential Oils. I recommend checking blending ratios before you get started, and with any new aromatherapy product, we always recommend doing a patch test, to ensure you don't have a sensitivity. If you do, remove, bathe with cool water for 20 minutes, and discontinue use.
However, my biggest, and most hard learnt tip is simple. Work slowly, adding one essential oil drop at a time, until you gain confidence. Even a single drop can make a huge difference to your blend, and as I very quickly learnt – it's easy to add drops but you can't take them out.
Today, I'm creating two aromatherapy inspired gifts to be used solely on the pulse points, because they're blended at higher dilutions than normal. They're used on small pulse point areas for aromatherapeutic benefits. However, you can blend at a lower dilution if you have sensitive skin or prefer a subtle aroma.
Pulse points and where to find them
Our pulse points are areas of thinner skin, where the pulse is felt. Applying aromatherapy blends to pulse points is a great way to benefit from the therapeutic properties of the essential oils.
Pulse points are found in many places, including:
On the inner wrist
The side of the neck
The temple
Behind the knee
On the ankle
Grounding pulse-point roller baller gift
The first gift I'm creating is a classic pulse-point rollerball, it's a deep, grounding aroma for someone who's got a lot going on and finds it hard to switch off.
My top note is sweet orange, middle note is cardamom, base notes frankincense sandalwood, cedarwood and vetiver.
Recipe:
8ml grapeseed oil
Sweet orange – 2 drops
Cardamom – 1 drop
Sandalwood – 4 drops
Frankincense – 3 drops
Vetiver – 4 drops
Cedarwood – 2 drops
(Use within 3 months of making)