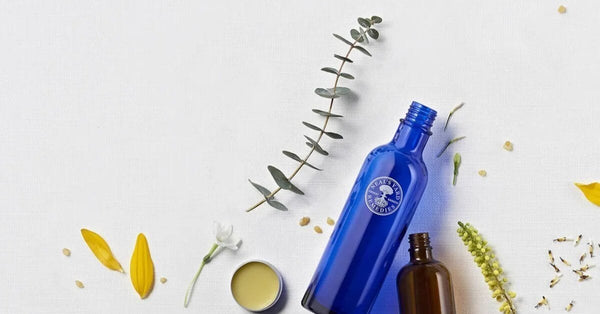 Sustainable ingredients
ethically sourced
We craft our products with love, selecting the finest herbs, botanicals and essentials oils, then maximising their therapeutic benefits at our eco factory in Dorset, England. Discover the incredible stories behind some of our ethically and sustainable ingredients and find out how they support communities all over the world.
Organic palmarosa ORIGIN: UGANDA
Ethically sourced, organic palmarosa from Uganda
We source our organic palmarosa essential oil from a small distillery near Tororo, in eastern Uganda, where this lush grass grows wild.
Helping communities
We've worked with a young farmer called Joel to set up a distillery, where he makes organic palmarosa essential oil with crops from local farms, creating valuable employment. We also buy our cleansing organic lemongrass and refreshing organic citronella oil from Joel. The oils are distilled in a plant designed to minimise environmental impact. The dry grass remnants from the distillation process are pressed into briquettes to fuel the boiler, while solar panels provide electricity. By contributing to the cost of organic certification as well as funding a water well, we are actively promoting sustainable practices and supporting local communities.
"Getting a fair and reliable price for our lemongrass essential oil has provided a much needed cash income for many families in our community."

Joel, Distillation owner
Organic chiuri butter ORIGIN: NEPAL
Ethically sourced, organic chiuri butter from Nepal
Our organic chiuri butter comes from the Surkhet Valley of southwest Nepal, and is a great ethical and sustainable natural alternative to palm oil.
Helping communities
Around 60 women from the village of Nayapanizufa harvest fruit from the chiuri trees. Gently shaking the tree allows them to pick the fallen fruit from the ground. Collecting around 5kg each a day, they take them home to remove the flesh and dry the seeds. After taking the seeds to a local co-operative, the women are paid a fair price and the seeds are traditionally pressed to extract the butter.
Mandari Garanja, Chairperson of the collectors group
"With money often hard to come by, the cash income the women get from the co-operative is important for the whole family. Paid a fair price for the amount of seeds collected, they use this income to buy food and clothes. From the discarded fruit, they make a local liquor, 'Chiuri rakshi' which they can also sell"
Susan Curtis, Senior Brand Ambassador & Ingredients Pioneer at Neal's Yard Remedies
Honey ORIGIN: MEXICO
Sourcing Fairtrade, organic honey from Mexico
We source honey from Chiapas, in southern Mexico, where the versatile flora gives this honey its beautifully delicate aroma.
Helping communities
Indigenous farming communities in hard-to access villages sell their honey through an ethical cooperative, ensuring fair trading conditions. It also founded an independent women's group, to help the women of the native Tzeltal Tzozil people with smallholdings so they can earn their own income.
Hives at the cooperative
"Fair honey trading is very important as it means they are no longer solely reliant on coffee farming. As the honey is certified organic it means that the farmers and the bees are living on land not exposed to synthetic chemicals and so are as healthy as possible, an important part of our campaign to Help Save the Bees."
Susan Curtis, Senior Brand Ambassador & Ingredients Pioneer at Neal's Yard Remedies
Organic geranium oil ORIGIN: DEMOCRATIC REPUBLIC OF THE CONGO
Ethically sourced, organic geranium oil from Democratic Republic of the Congo
Our balancing geranium is handpicked in DR Congo, giving local people income security and empowering life skills. The certified fair trade and organic plantation provides employment for more than 250 workers, including many mothers affected by the civil war. Fair trade premiums have helped provide access to healthcare and a school fee fund for the workers' children.
Frankincense ORIGIN: OMAN
Frankincense from Oman
We source our pure essential oil from the Dhofar region Oman, the cultural home of the finest frankincense.

Helping communities
During harvesting season, around 20 experienced collectors make small cuts in the bark of Boswellia sacra trees using traditional tools. A milky liquid oozes out and is left to harden in the sun. After about 14 days, the collectors return and slice off the resin. These 'pearls' are taken to a local distillery where they're steamed to extract the precious oil.
"There's a growing sustainability movement in Oman, working to combat unsustainable practices that mean that many frankincense trees are in danger of dying out. We're proud to only use the most sustainably sourced frankincense while supporting local collectors at the same time."
Susan Curtis, Senior Brand Ambassador & Ingredients Pioneer at Neal's Yard Remedies
Organic avocado oil ORIGIN: KENYA
Ethically sourced, organic avocado oil from Kenya
We source our organic avocado oil from the Thika region of the Kenyan highlands, from hundreds of small-scale, family-owned farms.
Helping communities
The avocado growers are spread out throughout the region so, on top of a fair price, each receives an individual share of the Fair Trade Fund payment, both of which help improve the lives of the farmers and their families. 
Theresa, avocado farmer
Theresa, one of the avocado growers has had to raise 7 children after her husband died in 1998. From her fair trade premium, Theresa has invested in a water tank and some livestock, and over the next few years her target is to build a new home – and she's already made a great start!
Sandalwood ORIGIN: AUSTRALIA
Sourcing sustainable Sandalwood from Australia
Renowned for its high quality and wellbeing properties, we source Sandalwood (Santalum album) from Australia. Here, the luxurious essential oil is extracted from trees grown in sustainably managed plantations.
Protecting vulnerable species
Due to its high value and demand, in the past Sandalwood has been exploited to the verge of extinction. After years of searching for a sustainable source, we're delighted to have secured a sustainable supply of Australian Sandalwood.
Over 10 million trees have been planted at tree nurseries so far.
"Taking 15 years or more to reach maturity, Sandalwood is a hemiparasitic tree, meaning that it needs to attach to another plant as a 'host' to get the minerals it needs to survive. This, in addition to the traditional value of the tree, have contributed to its rarity. For this reason, we only wanted to stock Australian Sandalwood when we were absolutely sure we'd found a carefully managed plantation source that actually makes a positive contribution to sustainability."
Susan Curtis, Senior Brand Ambassador & Ingredients Pioneer at Neal's Yard Remedies