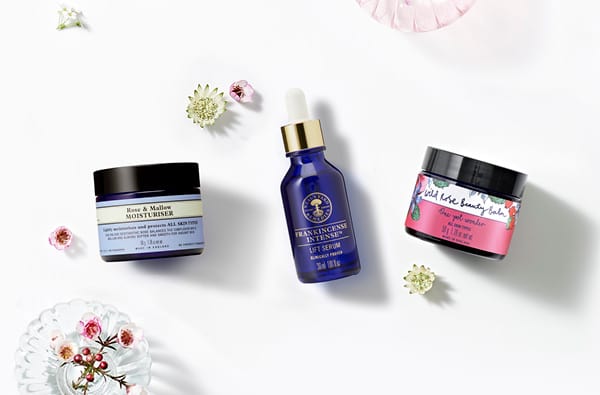 Natural inner & outer beauty
Established in 1981, Neal's Yard Remedies is a modern apothecary, creating award-winning natural and organic health and beauty.
From small beginnings in a quiet corner of Covent Garden, we're now a global leader with a growing presence across five continents – but remain grounded in our belief that outer beauty and inner health should be in perfect balance. We use the highest possible percentage of organic ingredients as they are kinder to the earth – and kinder to you. Using ethically sourced herbs, botanicals and essential oils, our experts handcraft potent blends of love, science and nature.
Our Story
Hello... and welcome! As part of the Kindersley family, we feel incredibly lucky to call ourselves the owners of Neal's Yard Remedies. This iconic company is very special to us and we're proud to create effective, award winning health and beauty products that are natural, organic and ethical.
As passionate advocates of organic living we want to help people to live happier, healthier lives and protect our beautiful planet. From becoming the UK's first certified organic health and beauty brand, to helping ban plastic microbeads, Neal's Yard Remedies is a truly pioneering force. Here's our incredible journey…
Our beginnings
Neal's Yard Remedies starts life in Covent Garden in 1981, founded by natural health advocate, Romy Fraser.
Our logo
Our tree symbolises our belief that outer beauty and inner health should be in perfect balance.
Family owned
Organic advocates, the Kindersleys, bought Neal's Yard Remedies in 2006 and reinforced our holistic approach to health and beauty.
Blue bottles, for a green future
We're fond of our blue bottles. We think they look great. The blue pigment protects against sunlight, helping protect and preserve the precious natural ingredients within. But their shelf life is not limited to looking after our products, they can take on a whole new life of their own. When you're done with your blue bottles, why not get creative and upcycle them around your home? From candlestick holders to vases or perhaps a more adventurous project, our blue bottles make beautiful household decorations. Tag your creations to our Instagram @nealsyardremedies_US #bluebottlesgreenfuture
Animal friendly
We test on willing humans and have never tested on animals.
Modern apothecary
We fuse the apothecary's ancient expertise with natural, organic ingredients and cutting-edge innovation.
Ethical pioneers
In 2014 we became the first health and beauty brand to receive 100/100 for ethics by The Ethical Company Organisation.
Beautifully British
We handcraft our beautiful products at our eco-factory in Dorset, England.
Our Eco Factory in Dorset
A proud British business, we have an eco factory, offices and a store in the beautiful countryside of North Dorset.
Small Scale Production 
We make our products in small batches to ensure they are as fresh and effective as possible. Our production team fills, labels and packages our products before checking every bottle, jar and tube by hand to ensure quality and consistency.
Sustainable Design
With energy efficient air management, rainwater and greywater recycling in our bathrooms, air-source heat pump systems and solar panels, our award-winning building design ensures our carbon footprint is kept to a minimum.
Organic Gardens
Our eco headquarters are set in acres of organic gardens, fields and meadows. It's here where our Head Gardener Fraser and his team grow the organic calendula, St. John's wort, verbena and lemon balm used in many of our favourite products.