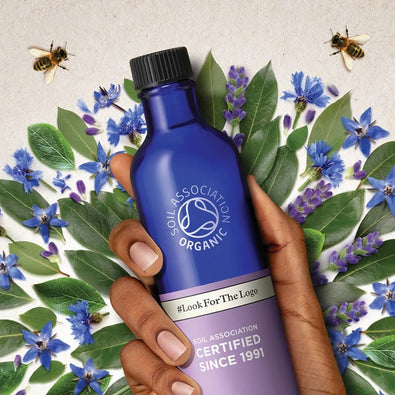 CHOOSE ORGANIC
for skin and planet
Soil association certified since 1991
YOUR ORGANIC LIFESTYLE BOX
Discover more about your selection of certified organic everyday essentials from brands making waves within the organic space, that are both kinder to you and to our precious planet.
Specially curated by Neal's Yard Remedies.
Rejuvenating Frankincense Hydrating Cream
This beautifully light, best-selling organic moisturiser, with rejuvenating frankincense and myrrh essential oils, keeps your skin soft and hydrated.
Aromatic Massage Oil
This skin-nourishing massage oil is a blend of soothing essential oils in a vitamin-rich base to leave your body and mind balanced and relaxed. The beautiful blend of organic sunflower, almond and wheatgerm oils is fragranced with uplifting geranium, relaxing lavender and warming marjoram. It helps to keep your skin soft and supple.
Aromatic Body Lotion
Balancing organic geranium and relaxing lavender are infused in nourishing pumpkin seed oil, for skin that's soft to the touch with a naturally soothing, subtly floral aroma.
Save the Bees Tote Bag
This 100% organic cotton Save The Bees tote bag has been created in line with Neal's Yard Remedies "Save The Bees" campaign. Launched in 2011, this has been supported by the naturally nourishing "Bee Lovely" range, donating 3% of sales from the collection to bee conservation charities.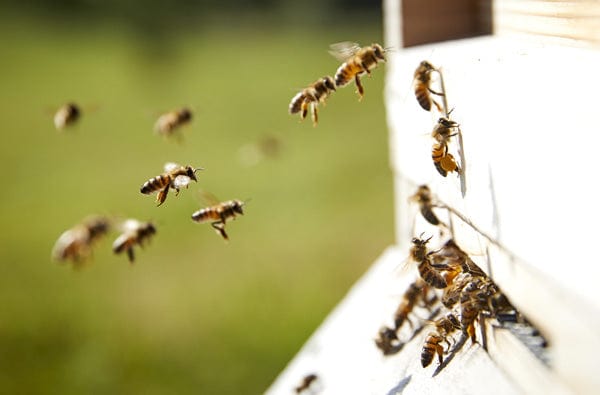 one teaspoon of neonicotinoid is enough to kill 1.25 billion bees.
Please help save the bees from deadly pesticides
SIGN THE PETITION
Hu Kitchen - Dark Chocolate Simple Bar & Milk Chocolate Simple Bar
Hu put the health, welfare and happiness of humans above all else in the food they make. They source simple, responsible ingredients to ensure their products put humanity and the human body first, and to help people get back to feeling human.
Nørlo Coffee - Original Coffee Beans Tin
Nørlo wants their activities to have as little impact on the environment as possible. Being certified organic and Fairtrade takes them one step closer to this goal, as does their initiative to put all their left-over coffee husk (roasting left-overs) into the creation of biodiesel.
DAME - Reusable Pads
Launched in 2015, DAME is on a mission to change the "toxic" period product industry and make periods positive for everyone - without plastic waste, synthetic ingredients and negative language. The reusable pads are made using unique DAMEdry technology, with five layers working together for fast-wicking, odour-proof and secure period protection.
Greenscents - Lavender Laundry Liquid
Since 2012, Greenscents has been producing certified organic cleaning & laundry products to customers in the UK and across the world. Their ethos is uncompromising: to provide the most natural and sustainable household products possible with all the benefits that certification brings.
Komodo - Organic Socks
Komodo has been committed to creating eco-friendly fashion since 1988. The brand uses premium quality organic, natural and eco fibres, breaking new ground with innovative fabrics such as green PU coating and recycled PET from plastic bottles. Most of the products are vegan and all are cruelty free, and Komodo no longer has single-use plastic in their supply chain.
Biona - Rye Bread
Built on an unwavering commitment to 100% organic, ethically and sustainably sourced food, Biona began life on a kitchen table in London over 35 years ago. Today, the Biona family are proud to bring more than 350 organic products to lovers of good food in 30 countries across the world.
Georganics - Mineral Toothpaste
Georganics are on a mission to make natural & toxic-free oral care an option for everyone. They develop certified organic, vegan products that are inspired by nature, and their "Zero to Landfill" scheme aims to cut the 300 million plastic toothbrushes that go to landfill in the UK each year.
Friendly Turtle
Friendly Turtle offers a unique catalogue of eco-conscious products. Their primary aim is to raise awareness of sustainable, ethical living by introducing people to the many sustainable alternatives to daily essentials that are currently available, from reusable food wraps to plastic-free toiletries.Plus, 5% of all profits are donated to charities or social enterprises. 
About Neal's Yard Remedies
Established in 1981, Neal's Yard Remedies is a modern apothecary creating award-winning natural andorganic health and beauty. From small beginnings in a quiet corner of Covent Garden, the brand is now aglobal leader with a growing presence across five continents but remains grounded in its belief that outerbeauty and inner health should be perfectly balanced. Neal's Yard Remedies uses the highest possiblepercentage of organic ingredients, ethically sourced herbs, botanicals and essential oils, handcrafted intopotent blends of love, science and nature.
About the Soil Association
For over 75 years, the Soil Association has worked with growers and makers to transform the way we eat, farm, and care for our natural world. They are the UK's largest organic certification body, and campaign for nature-friendly changes in farming on a global stage. Find out more at www.soilassociation.org/certification