The ever-growing list of industry buzzwords – think 'clean', 'green', 'eco' and 'pure' – can make navigating the beauty world a minefield. Organic beauty is at the top of that list, but it's more than just a popular catchphrase – it's a planet-positive movement taking beauty by storm. As proud pioneers of organic beauty since 1988, we thought we'd decode the term, so you can choose organic confidently, enjoy all its benefits and love it just as much as we do.
What does organic mean in beauty?
Organic refers to a way of farming that works with nature, not against it, without the use of synthetic fertilisers and herbicides. It's rooted in preserving the vitality of our soils to propagate biodiversity, which has far-reaching benefits for our health and wellbeing, animals and wildlife, climate, people and planet.
An extension of this, organic beauty is the formulation of cosmetic products using organically farmed ingredients. The term has garnered popularity over the years, but the problem with its excessive use lies in the law; there are no legal guidelines for organic products in the beauty industry. That said, there is an easy and reliable way to decipher organic claims – through independent bodies and trusted certifiers with transparent and exceptionally high standards, whose logos you'll find on packaging.
Look for the logo
The Soil Association is the UK's gold standard organic certification body for food, farming, beauty and wellbeing. Founded in 1946 and led by farmer and organic pioneer Lady Eve Balfour, the charity was born from growing concerns about the health implications of intensive farming after the Second World War.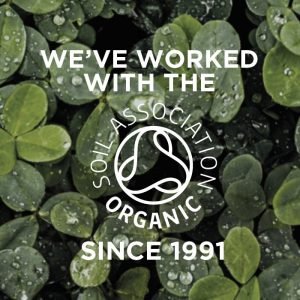 In 2002, the five leading European organisations certifying organic and natural cosmetics came together and agreed to develop a single, harmonised standard. Since 2017, new beauty products launched or reformulated under these robust global organic standards are certified COSMOS (COSMetic Organic Standard).
When you spot the Soil Association and COSMOS logos on a product, you can be sure that it has been formulated without:
animal testing
genetic modification
controversial chemicals
parabens and phthalates
synthetic colours, dyes or fragrances, and
In 2002, we were the first brand to certify organic skincare under the Soil Association's beauty and wellbeing standards with four heritage products, including our much-loved Melissa Hand Cream and Rose & Almond Night Cream.