Come October every year like 'clockwork', we fall back into fall as it naturally gets darker and DST (daylight saving time) means the clocks go back and we gain an extra hour of the day. This may sound appealing as we are granted another hour of cosy sleep in bed but we can not underestimate the impact this has on our bodies, skin and sleep cycles. The body clock, yet invisible to us all, is incredibly powerful.
Your circadian rhythm is the body's natural 24-hour cycle and is responsible for much more than just sleep and wakefulness. Brain wave activity, hormone production, body temperature, skin cell regeneration, mental alertness and mood and stress levels are also all linked to your internal biological clock.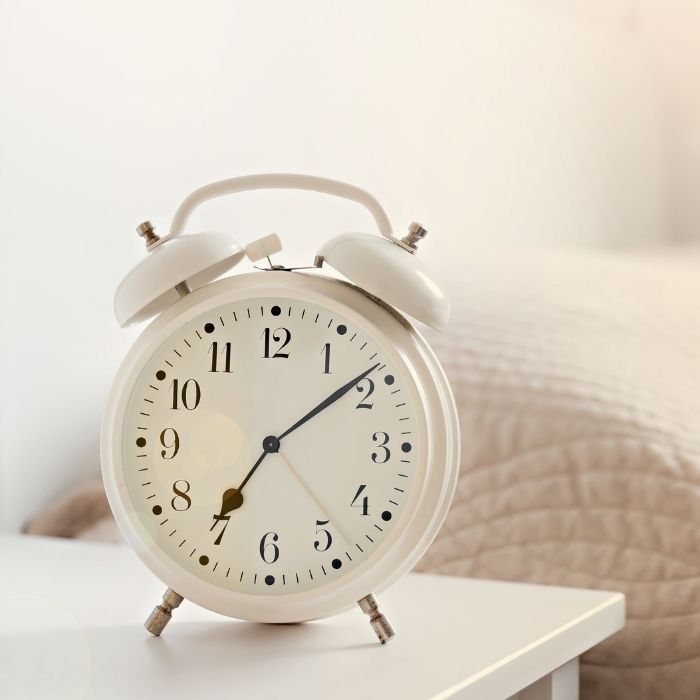 So can one little hour really cause that much of an effect? It is very common to feel lethargic, irritable and suffer from dull skin when the clocks shift. However, remember that DST is an environmental change, not genetic, so we have the power to adjust our behaviour, practise good sleep hygiene and listen to our body's natural rhythm to rebalance and beat the clock.
We all get by with a little help from our friends and these Neal's Yard Remedies products will help you to go easy on yourself as the seasons change…
Which products will help me handle the clocks going back?
1. Honey & Orange Facial Scrub
2. Sensitive Restore + Smooth Serum
3. Seaweed and Arnica Bath Salts
7. Aromatherapy Blend – Night Time
9. Remedies to Roll – Meditation
£18.00 Buy now

with Neal's Yard Remedies

Is your skin in sync? A change in temperature both in your body and outside can throw off the skin's natural rejuvenation process. This scrub uses organic rice powder to deeply exfoliate and remove dead cells, while honey and natural neroli oil soften and nourish the skin underneath. Leaving you with a renewed layer to start fresh and care for. Top tip – remove in small circles with a gentle cloth for extra exfoliation.

Buy now with free delivery